3 Tips for Handling a Musty Scent in Your Building
5/1/2022 (Permalink)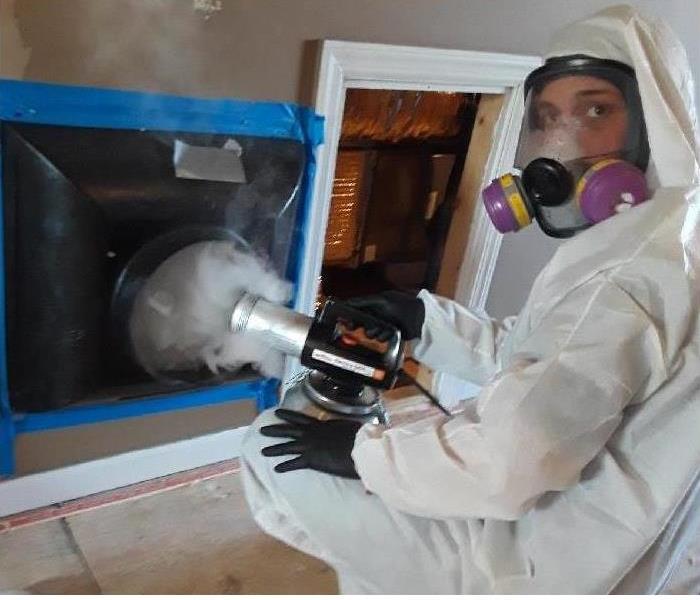 SERVPRO of Berlin/Williamstown has a team certified to handle mold of all colors. We have the right equipment to clean it up, call us.
3 Ways To Get Rid Of A Musty Smell In Your Building
Have you recently noticed or received complaints about a musty odor permeating the air in your commercial property in Clayton, NJ, but cannot identify a visible source? This may be a mold smell or a mildew smell.
Note that while mold and mildew are not technically the same, mildew is a type of mold, usually "early stage" or "young" mold growing flat; hereafter, the term "mold" will be used with the understanding that mildew is included in its usage.

Even if you do not see patches of it crawling along the walls in plain view, the ubiquitous mold is present in virtually every structure as spores in the air. The fungus smell is the result of the production of chemicals as mold grows and spreads. Since it indicates the presence of an organism capable of damaging a building's materials and structural integrity, it is important to deal with it as soon as possible. Here are some tips for doing so.

1. Contact a Professional

A professional cleanup and restoration service is more equipped to handle this kind of issue than an inexperienced individual. You should contact one to perform a thorough remediation of any areas the fungus has invaded.

2. Locate Potential Areas of Origin

The mold smell may originate from hidden places such as behind walls, in ceilings and under floors. Any area that is wet, cool and dark might harbor mold. Areas you should check include:
Stairwells

HVAC systems

Bathrooms

Storage areas
If you experience difficulty finding discernable signs of the fungus, a low-temperature range thermal/infrared camera can help identify concealed moisture that might be acting as a breeding ground for it.
3. Ventilate

After the professional has removed any mold found and sanitized its previous resting place, you should take measures to ventilate the rooms/building where it formerly resided. Examples of such actions include using fans and opening windows. This will help circulate fresh air while pushing out the musty air and dry up remaining moisture that might promote the return of the microbes.

Mold smell is less than ideal. However, with the aid of a professional, it can be dealt with easily.